Firetail – Analysis of GPS and Acceleration Data
Towards a better understanding of wild animals
Products
Firetail supports high quality GPS tags which track and record movement patterns of animals.
GPS
View GPS points directly after download from tag in the field. Handles more than 500.000 GPS points.
Acceleration
Display more than 10M acceleration samples – time sychronized with GPS points.
Visualization
Firetail offers different visualizations and various options for processing tracking data. Select data by area, time period and more.
For me, Firetail represents a whole new level of behavioral research in biology. Digitalization and recent developments in tracking technology allowed for an enormous growth in sample size and available data, yet small-grained pieces of information are lost by the increasing distance between researcher and study animal.
Using Firetail, this gap is bridged. The scientist gets up close to the studied animal again.

Movebank is an initiative by the Max Planck Institute of Animal Behavior. Access your data immediately after the upload. Firetail provides you with an interface to Movebank and enables the immediate analysis of your public and private data sets. Load – explore – discover.
E-obs devices reliably capture high-resolution GPS and acceleration data. The measurements are enriched with an ever growing set of additional sensors for temperature, height, orientation (IMU) and speed — empowering your research with unprecedented detail and context. Firetail supports state-of-the-art e-obs features natively. The perfect match!
Profit from our long-term experience in the field of GIS, biologging, software development and data science. Contact us!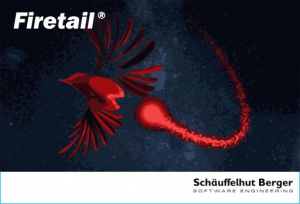 Discover new possibilities in our video tutorials and see your data in a new light.
The Firetail License Package
Order your personal license and receive
free upgrades for 12 months.
The license is valid for one natural person after we received your payment.
For institutes and company licenses: support@firetail.de
One license will be shipped per order.

We offer special promotional Firetail bundles to ship with your hardware. Get in touch and let your customers benefit from Firetail's extensive data analysis capabilities!
Please use our mail form. We are looking forward to receive your inquiry.
a